Desarrollo global sostenible y surgimiento de nuevos principios en el Antropoceno
Lívia Gaigher Bósio Campello

Universidade Federal de Mato Grosso do Sul: Campo Grande, MS, BR

Rafaela de Deus Lima

Ministére de l'Éducation et de la Jeunesse: Sèvres, FR

Thaís Fajardo Nogueira Uchôa Fernandes

Universidade Federal de Mato Grosso do Sul: Campo Grande, MS, BR
Palabras clave:
Antropoceno, Derecho Ambiental, Desarrollo sostenible, paradigmas
Resumen
El Antropoceno abre el camino a un nuevo paradigma en la historia del planeta Tierra, poniendo de relieve la crisis ecológica global, resultado de acciones antrópicas. De hecho, hace falta buscar respuestas legales a los desafíos que surgen en esta coyuntura. De ahí que, este artículo hace un análisis, desde la perspectiva del desarrollo sostenible, una propuesta basada en los principios para sostener el derecho ambiental en la nueva época geológica del Antropoceno. Para ello, en primer lugar, el trabajo aborda las implicaciones jurídicas derivadas del reconocimiento del Antropoceno, entendiéndolo como un concepto que va más allá de la geología y entra en el mundo jurídico como un paradigma inédito. Posteriormente, estudia los principios del derecho ambiental que se manifiestan como respuesta
a las rupturas provocadas por el Antropoceno. Por lo tanto, se llevó a cabo una investigación exploratoria y descriptiva, bibliográfica y documental, con análisis de trabajos y artículos científicos mediante el método analítico-deductivo.
Descargas
La descarga de datos todavía no está disponible.
Citas
Biber, E. (2016). Law in the Anthropocene epoch. SSRN Electronic Journal. https://doi.org/10.2139/ssrn.2834037
Biermann, F. (2018). Global Governance in the "Anthropocene" (C. Brown & R. Eckersley, Orgs.). Oxford University
Press.
Campello, L. G. B., & Calixto, A. J. (2017). Notas acerca dos direitos humanos de solidariedade. In E. Trevisam & L. G.
B. Campello. (Eds.). Direito & Solidariedade. Jurá.
Campello, L. G. B., & Lima, R. D. (2018). O princípio da cooperação internacional em face às fronteiras planetárias.
Revista Argumentum, 19(2), pp. 331–356.
COMISSÃO MUNDIAL SOBRE MEIO AMBIENTE E DESENVOLVIMENTO. Relatório Brundtland. 1987. ([s.f.]).
Crutzen, P. J. (2002). Geology of mankind the anthropocene. Nature. 415(3), p. 23.
Dann, P. (2010). Solidarity and the Law of Development Cooperation. In R. Wolfrum R. & C. Kojima (Eds.), A Structural
Principle of International Law. Springer.
Demange, L. H. M. de L. (2013). The Principle of Resilience. Pace Environmental Law Review, [sl, 30, n. 2].
Duarte Agostinho and others v. Portugal and 32 other states. (2020, setembro 3). Climatecasechart.Com.
http://climatecasechart.com/non-us-case/youth-for-climate-justice-v-austria-et-al/.
Häberle, P. (2007). Estado Constitucional Cooperativo. Tradução de Marcos Augusto Maliska e Elisete Antoniuk.
Renovar.
Hayden, A., Agni, F. U. C. H. S., Doris, H. A. Y. D. E. N., & Anders. (2020). Sufficiency. In Kalfagianni, A., Fuchs, D., &
Hayden A. (2020). Routledge Handbook of Global Sustainability Governance. Routledge.
Humby, T.-L. (2014). Law and Resilience: Mapping the Literature. Seattle Journal of Environmental Law, Seattle, 4, n.
1.
Internacionais, A. R. A. e. (2021, julho 14). Carros elétricos e impostos sobre importações sujas: conheça o novo plano
de transição verde da UE. O Globo. https://oglobo.globo.com/mundo/carros-eletricos-impostos-sobreimportacoes-sujas-conheca-novo-plano-de-transicao-verde-da-ue-1-
25109272?utm_source=aplicativoGloboMais&utm_medium=aplicativo&utm_campaign=compartilhar.
Kalfagianni, A., Fuchs, D., & Hayden. (2020). Routledge Handbook of Global Sustainability Governance. Routledge.
Kellert, S. (1993). Introduction. In S. Kellert (Org.). The Biophilia Hypothesis. Island Press.
Kotzé, L. J. (2016). Global environmental constitutionalism in the anthropocene. Herbert Press.
LA CRISE ÉCOLOGIQUE, QUELLE HISTOIRE? PAR CHRISTOPHE BONNEUIL. [Paris: sn], 2019. 1 vídeo (1h. 27 min. 20 s.).
Publicado pelo canal Université PSL. Disponível em:
https://www.youtube.com/watch?v=C5fMGkLOSmg&list=PLymkCq4mDYeT_tt6E_fHBbA bLSEaW_1mI. Acesso
em: jun. 2020. ([s.f.]).
Lews, S. L., & Maslin, M. A. (2018). The Human Planet: how we created the Anthropocene. Yale University Press.
Lima, Rafaela de Deus (2021). A proteção do meio ambiente e dos direitos humanos afetados pelas mudanças
climáticas nos sistemas universal e regionais de direitos humanos. 138 fls. Dissertação (Mestrado em Direito)
– Faculdade de Direito, Universidade Federal de Mato Grosso do Sul, Campo Grande, 2021.
Lorenzetti, R. L., & Lorenzetti, P. R. (2020). Global Environmental Law. Environmental Law Institute.
Loveridge, D. (2009). Foresight: The art and science of anticipating the future. Taylor & Francis Group.
Matarazzo, G., & Sales, G. (2020). Antropoceno e Organizações: Reflexões sobre Governança Ambiental em Unidades
de Conservação. Revista Gestão & Conexões, 9(3), pp. 32–51.
Muller, A., & Huppenbauer, M. (2016). "Sufficiency, Liberal Societies and Environmental Policy in the Face of
Planetary Boundaries". GAIA, Zurich, n. 2.
ONU. (1945). Carta das Nações Unidas.
ONU. (1972). Declaração de Estocolmo.
ONU. (1992). Declaração do Rio sobre Meio Ambiente e Desenvolvimento.
ONU. (2002). Declaração de Johanesburgo.
ONU. (2012). O Futuro que Queremos.
ONU. A/RES/2625/XXV. [S. l.], 1970. ([s.f.]).
Preheim, L. M. (2001). Biophilia, The Endangered Species Act, and a New Endangered Species Paradigm. William &
Mary Law Review, 41(12), pp. 1053–1076.
Prieur, M. ([s.f.]). Les principes généraux du Droit de l'Environnement. Droit International et Comparé de
l'Environnement: Formation à distance, Campus Numérique. Université de Limoges, cours n. 5.
Publications Office of the European Union. ([s.f.]). Pormenores de publicação - Publications Office of the EU.
Europa.eu. Recuperado 12 de novembro de 2021, de https://op.europa.eu/pt/publication-detail/-
/publication/b89d6514-7268-11eb-9ac9-01aa75ed71a1.
Reich-Graef, R. (2019). Foreword-anthropocenic disruption, community resilience and law. Western New England
Law Review, 41, n. 3, pp.411–454.
Robinson, N. A. (2014). Fundamental Principles of Law for the Anthropocene? Environmental Policy and Law, 44, n. 1–
2.
Rockström, J., Steffen, W., Noone, K., Persson, Å., Chapin, F. S., Iii, Lambin, E., Lenton, T. M., Scheffer, M., Folke, C.,
Schellnhuber, H. J., Nykvist, B., de Wit, C. A., Hughes, T., van der Leeuw, S., Rodhe, H., Sörlin, S., Snyder, P. K.,
Costanza, R., Svedin, U., … Foley, J. (2009). Planetary boundaries: Exploring the safe operating space for
humanity. Ecology and society: a journal of integrative science for resilience and sustainability, 14(2).
https://doi.org/10.5751/es-03180-140232
Roosevelt, T. (1908). Address by the President, "Proceedings of the Conference of Governors of the United States". The
White House.
Sanchs, J. D. (2015). The Age of Sustainable Development. Columbia University PRESS.
Sands, P., & Peel, J. (2003). Principles of international environmental law. Cambridge University Press.
Sarlet, I. W., & Fensterseifer, T. (2017). Princípios do direito ambiental. Editora Saraiva.
Sarlet, I. W., & Fensterseifer, T. (2020). Curso de Direito Ambiental. Forense.
Ulrich, R. (1993). Biophilia, biophobia and natural landscapes. In E. Wilson & S. Kellert (Orgs.), The Biophilia
Hypothesis. Island Press.
United Nations General Assembly. (2013). Open working group of the General Assembly on Sustainable Development
Goals.
Voß, J.-P., Truffer, B., & Konrad, K. (2006). Sustainability foresight: reflexive governance in the transformation of
utility systems. In J.-P. Voß, D. Bauknecht, & R. Kemp (Orgs.), Reflexive Governance for Sustainable
Development (p. 162–188). Edward Elgar Publishing.
Weber, K. M. (2006). Foresight and adaptive planning as complementary elements in anticipatory policy-making: a
conceptual and methodological approach. In J.-P. Voß, D. Bauknecht, & R. Kemp (Eds.). Reflexive Governance
for Sustainable Development (pp. 189–224). Edward Elgar Publishing.
Weiner, J. B., & Ribeiro, D. L. (2016). Environmental regulation going retro: learning foresight from hindsight. Journal
of Land Use, 32(2).
Wilson, E. (1984). Biophilia. Harvard University Press.
Wilson, E. O. (1993). Biophilia and the Conservation Ethic. In E. Wilson & S. Kellert (Orgs.). The Biophilia Hypothesis.
Island Press.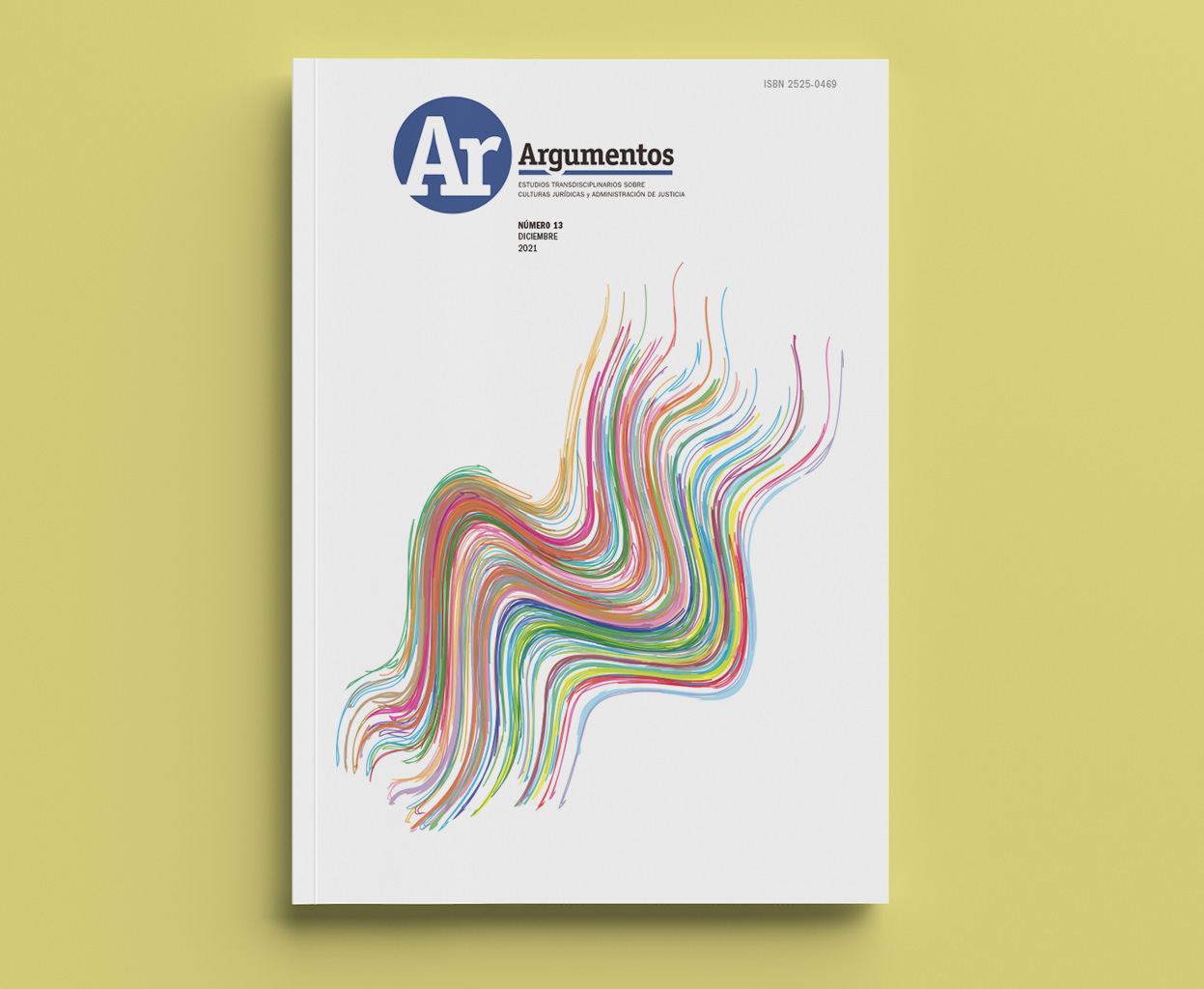 Cómo citar
Gaigher Bósio Campello, L., Deus Lima, R. de, & Fajardo Nogueira Uchôa Fernandes, T. (2021). Desarrollo global sostenible y surgimiento de nuevos principios en el Antropoceno. Revista Argumentos. Estudios Transdisciplinarios Sobre Culturas Jurídicas Y Administración De Justicia, (13), 1-25. Recuperado a partir de https://revistaargumentos.justiciacordoba.gob.ar/index.php/primera/article/view/236
Derechos de autor 2021 Revista Argumentos. Estudios Transdisciplinarios sobre Culturas Jurídicas y Administración de Justicia
Esta obra está bajo licencia internacional
Creative Commons Reconocimiento-NoComercial 4.0
.